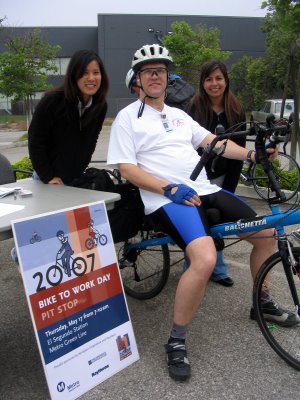 Me at the Bike To Work Day Pit Stop at the Nash Green Line station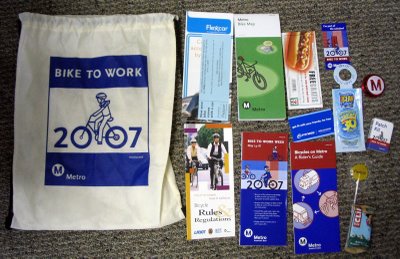 All the loot I got today!
Today is Bike To Work Day during Bike To Work Week. I fixed my tire that went flat last night, and rode my bike in today as well. I have ridden in three days so far this week. I saw several other bike riders, mostly when I got close to my work in El Segundo. They had a pit stop set up at the Nash Green Line station near my work and were giving out goodie bags and bagels and drinks. I of course participated! Free stuff and Free food! Who can beat that! I had someone take my picture next to the sign there and they also took my picture for the Los Angeles Metro system with their camera. He was a volunteer for the LA Metro. Did you ride your bike to work today? If not, why not?not?