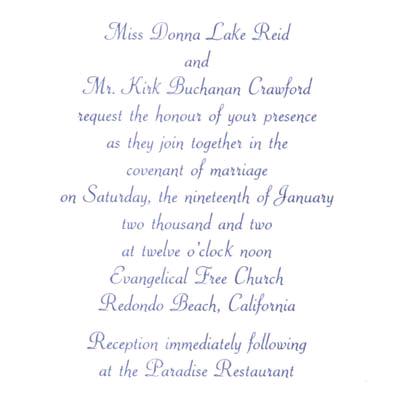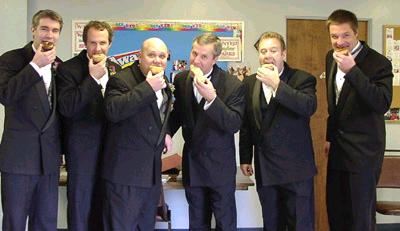 I don't know about you, but I think the groom looks a bit nervous!! Ushers Bill, Eric & Brad, Kirk (the groom), Steve (the best man) and Steve (another usher). Who do you think finished first?
With Eric nearby smirking, Dianne pins on Kirk's corsage. Dianne, one of Donna's friends from Dallas, acted as our wedding coordinator...and let us tell you, she was the BEST EVER!! If you EVER need a wedding coordinator, and you can convince her to do it again after dealing with the likes of us, CALL her!! (Don't really...she'll kill me!)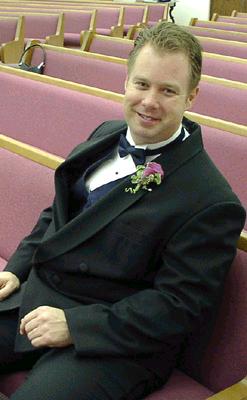 Steve, the best man, takes a little breather in between photographs. Get used to it, Steve!! (He got married in September, 2002!)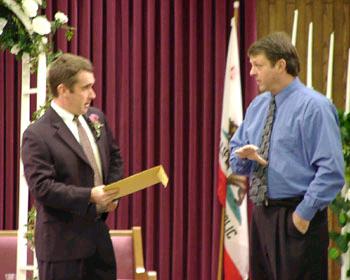 Pastor Chris and Doug, our sound guy and good friend, sort out some details before the ceremony begins. Doug repeatedly reminded Chris (and everyone TALKING to Chris) to remind US to speak up into his mike when saying our vows. We did our best! Doug did a great job and we are grateful for his contribution!
Following are a series of pictures that were taken by our photographer and appear in our wedding album:
Donna's wedding portrait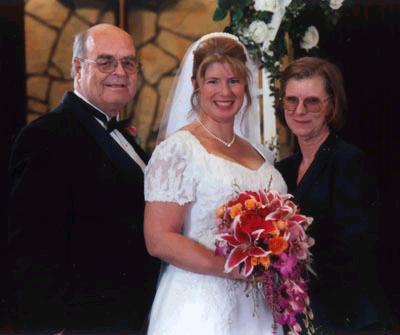 Donna with her parents, Mike Reid and Lynda Reid.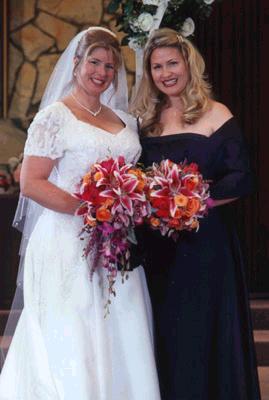 Donna and Meredith, the Matron of Honor.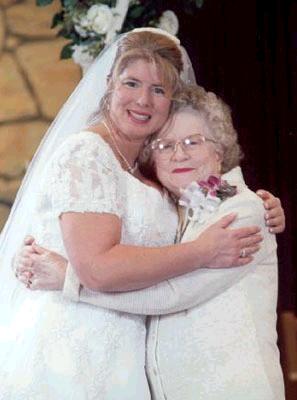 Donna with her grandmother.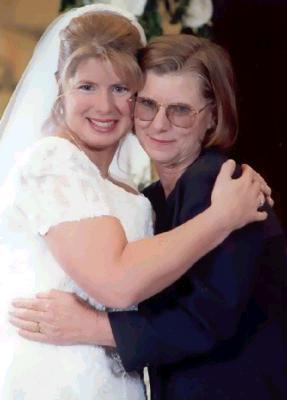 Donna with her mom.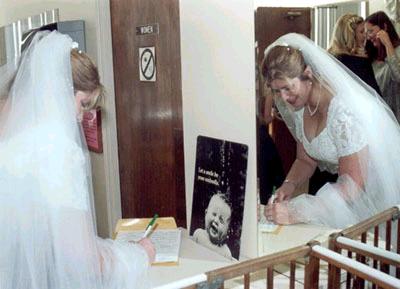 Donna signs the marriage license as Meredith and Kris look on.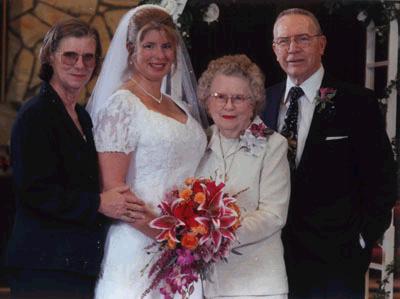 Donna with her mom and grandparents.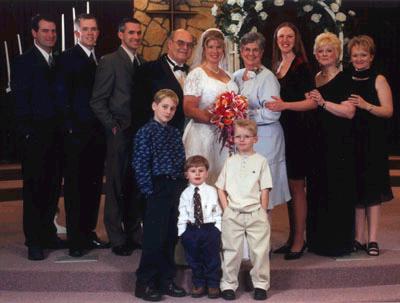 Donna with her father's family: Matt, Jon, Greg, father, Betty, Sarah, Melissa & Wendy. The boys in front are Tate, Tanner & Teaghan.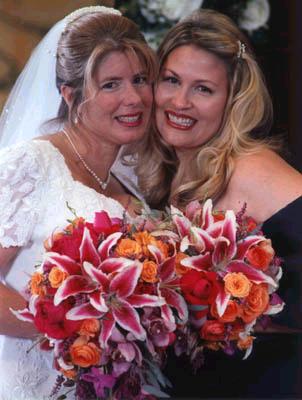 Meredith, the Matron of Honor, has been Donna's best friend since 1976, when they met jumping on a trampoline in gym class. They have been through everything together. Meredith was instrumental in Donna's decision to commit her life to Christ (which was finally made in 1996).
All of the flowers were prepared by our dear friends Jeff & Renee. I think you'll agree that they did a magnificent job all around!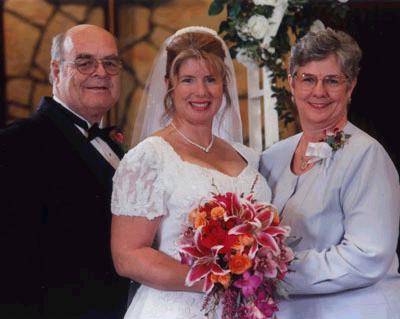 Donna with her dad and Betty.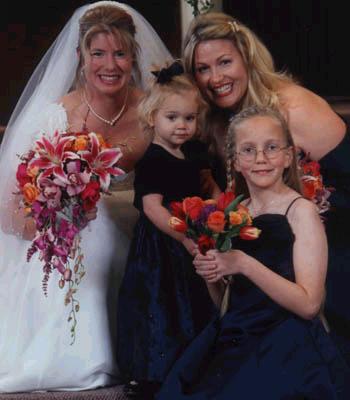 Donna with her attendants: Meredith, the Matron of Honor; Katie Beth, her flower girl and god-daughter (and Meredith's daughter); and Amy, her flower girl/junior bridesmaid/jill-of-all-trades and niece.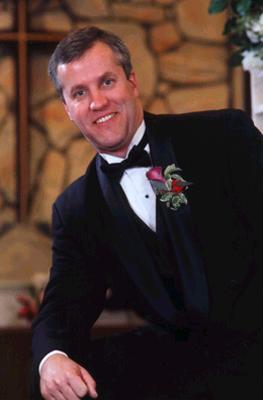 FINALLY!!! A picture of the groom!!! Here's Kirk! Isn't he handsome?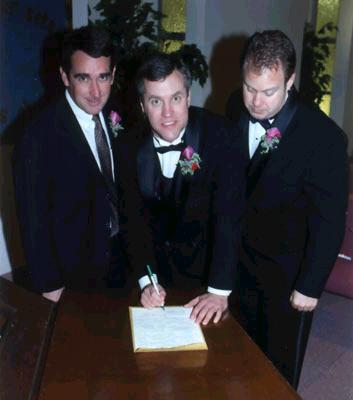 Kirk signs the marriage license as Chris (the pastor) and Steve (the Best man) look on.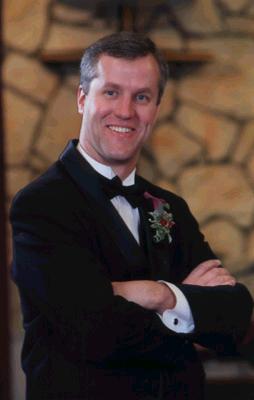 The groom's portrait (the bride made him get two!)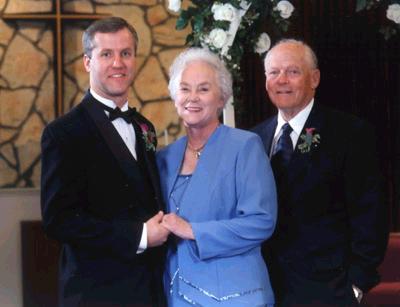 Kirk and his parents, Sally and Fred.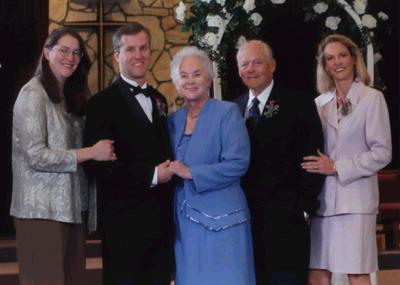 Kirk with his family: Kris, Kirk, Sally, Fred and Kelley.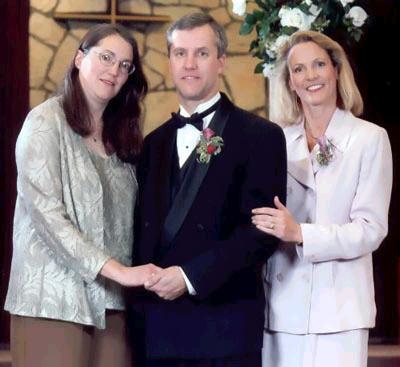 Kirk with his sisters, Kris and Kelley.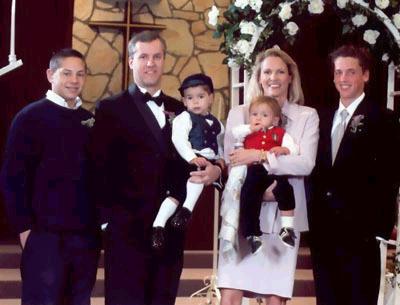 Kirk with Kelley and her children, Scott, Bradley, Jeffrey and Corey. Meghan was planning to be there too, but was home with pneumonia.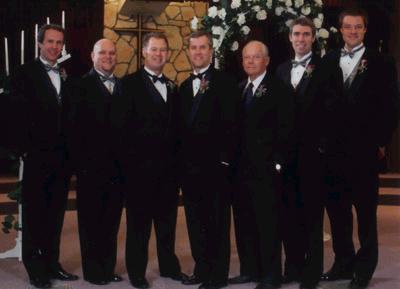 Kirk with the men: Eric, Brad, Steve, Kirk, Fred, Bill and Steve.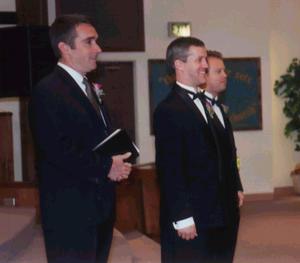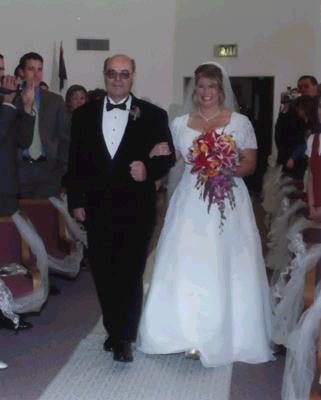 Kirk sees Donna for the first time that day, as she walks down the aisle with her father.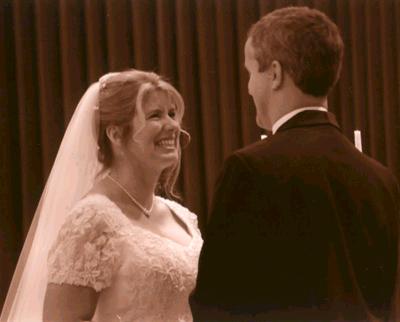 A wedding is a time of celebration!!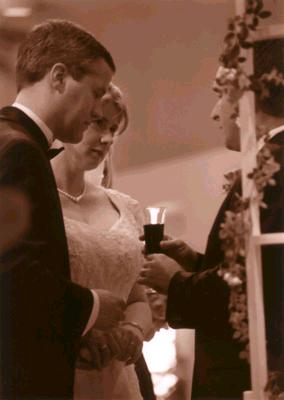 We also took our first communion together during our wedding. It was a very special moment for us.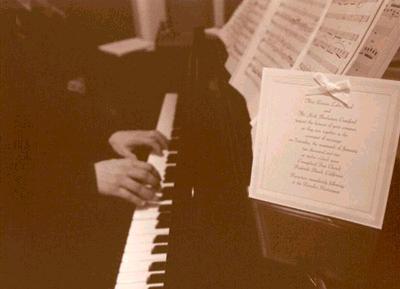 Before, during and after the ceremony, David Harris played piano (and accompanied Roxann Harris and Sarah Lavallo on guitar). He is an extremely talented musician and we thank him participating in our wedding!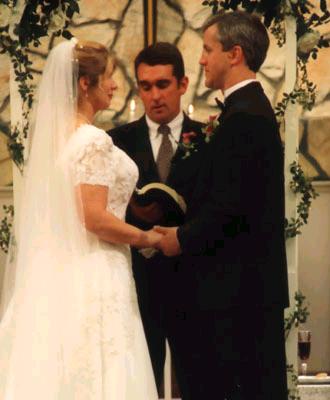 Kirk and Donna both believe strongly in the covenant of marriage, as ordained by God. We vowed to love one another and to remained married as long as we both are living.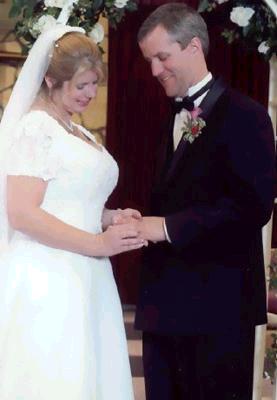 Kirk and Donna exchange wedding rings.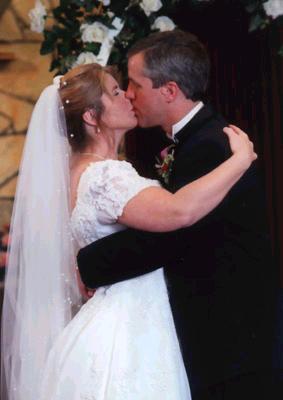 Of course, the traditional kiss!!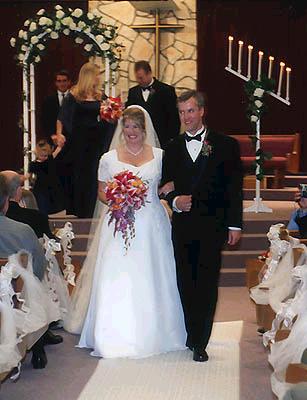 Presenting, Kirk and Donna Crawford!
Isn't he romantic? (She's completely smitten!)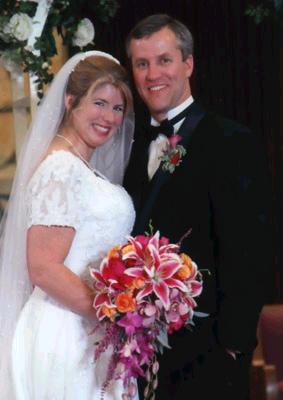 Kirk and Donna: The Happy Couple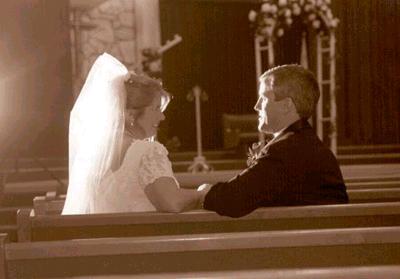 Kirk and Donna take a break between photos.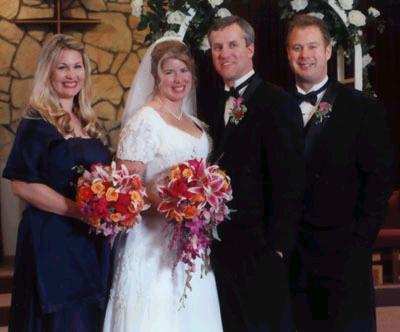 Kirk and Donna with Meredith, the Matron of Honor and Steve, the Best Man.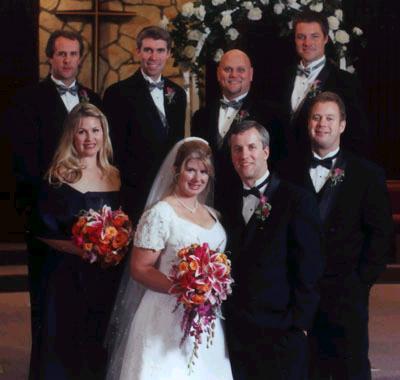 Kirk and Donna, with the ushers on the back row - Eric, Bill, Brad and Steve, and with Meredith and Steve.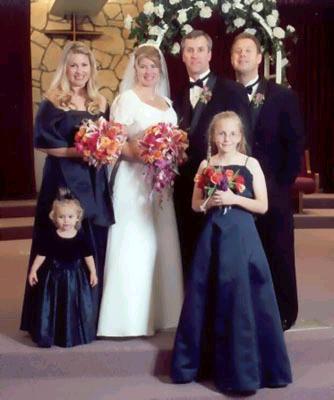 Kirk and Donna with Meredith, Steve, Katie Beth and Amy.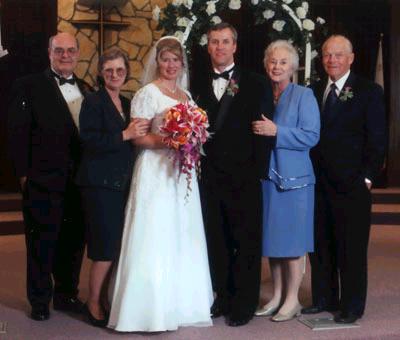 Kirk and Donna and their parents,
Mike Reid, Lynda Reid, and Sally and Fred Crawford.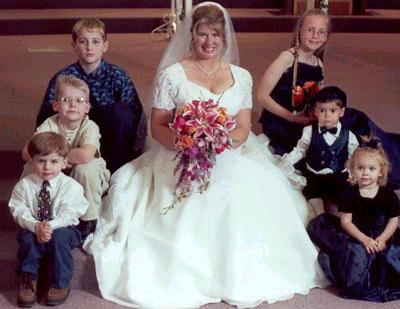 Donna and her niece, nephews and god-daughter.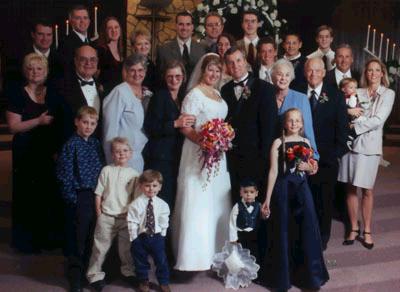 The WHOLE family (too many to mention!)
And we couldn't resist!! We LIVE at the beach...so we had to take PICTURES at the beach!!!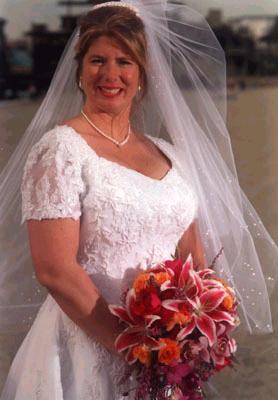 Donna...trying on a "vogue" pose.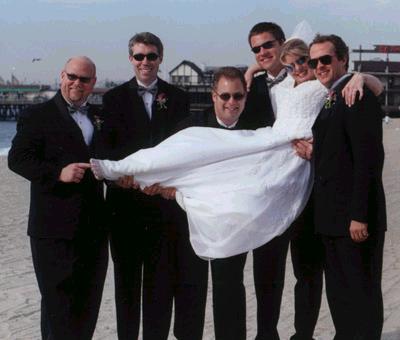 The REAL Donna!! (now, STOP that Brad -- she's not ticklish)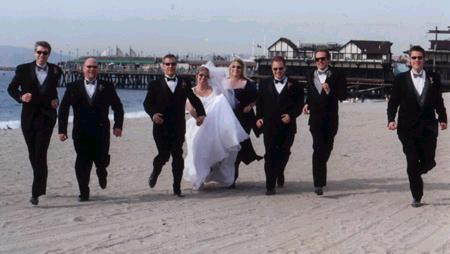 "Shhhaarrrrrkkkk!!!!"
Oh, wait...that's a lawyer...oh, wait...it's Donna...a bride! Oh, never mind!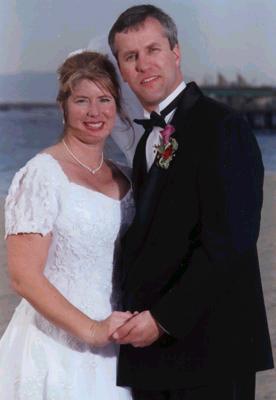 It was a PERFECT day (in JANUARY) on the beach...now don't you wish YOU lived here?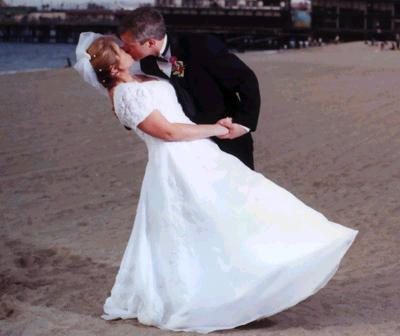 He doesn't miss an opportunity, does he?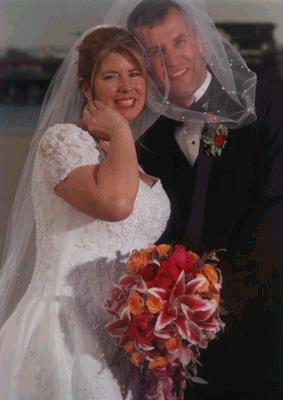 The real Kirk & Donna -- fun & silly!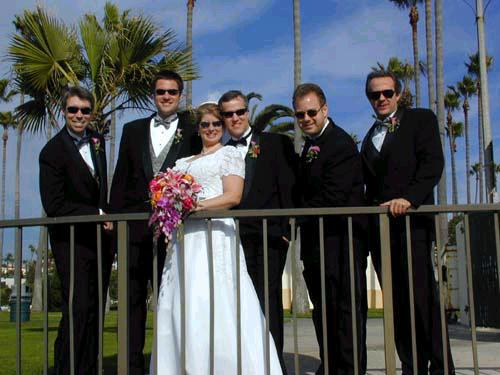 The Gang